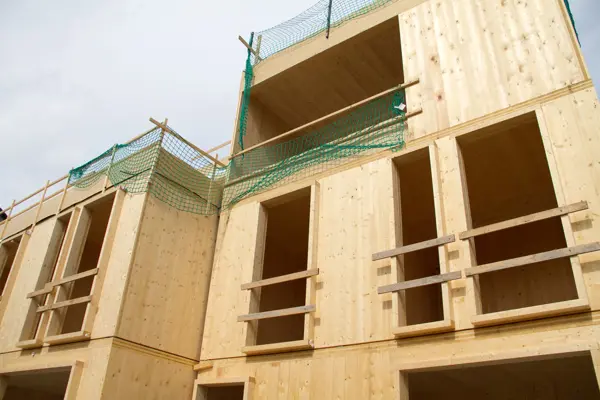 Sustainable and affordable prefab wood and concrete
In the framework of the Walloon Region's CWALity call for projects, two projects are under way involving technical innovation in the field of industrialisation:
'LARCOWALL'. This project, being undertaken in collaboration with the LARCO company, focuses on developing new precast hollow walling in extruded concrete (i.e. a wall in recycled concrete), prefabricated on a production line using the immediate demoulding technique.
'S-CLT'. This project, being carried out with Stabilame, aims to develop new prefabricated wooden panels, combining layers of CLT (Cross Laminated Timber) and insulation.
Industrialisation is aimed in particular at reducing costs and labour time on the construction site.
In 2021, we tested these two materials for their mechanical performances (compressive strength, bracing, bending strength…), acoustic performances and airtightness of wood, and the sustainability performance of recycled concrete. Subsequently, calculation models were developed for both materials to assist site players to determine the correct parameters for these properties, depending on the specific construction site situations.
Finally, to promote the use of 'LARCOWALL' with BIM, we are developing a digital drawing model with the help of the 'Revit' software program.

The results are promising and will inspire the sector by providing practical avenues for innovation in prefabrication.