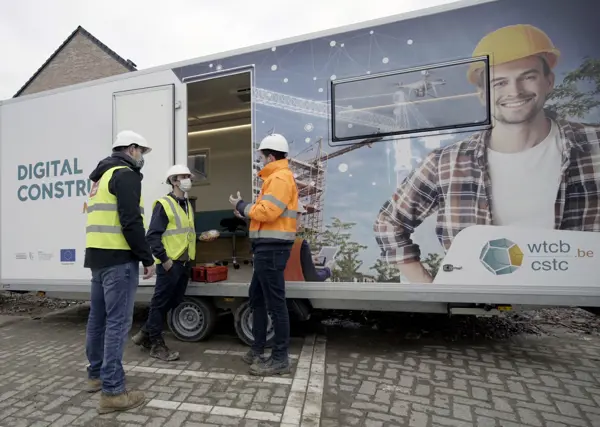 'Digital Construction': intro to new technologies
The 'Digital Construction' initiative offers construction professionals tailor-made advice and assistance in various ways on new digital technologies, such as digital measurement applications, drones, artificial intelligence and augmented reality applications.

To begin with, the website www.digitalconstruction.be offers a list of technological applications adapted to the different construction trades and focused on the building site. In 2021, the website was expanded with 24 applications and 20 test cases, and counted an average 1,680 unique page views per month (+ 44% over the previous year).

Contractors can also test the various technologies at our demonstration centres. In 2021 we worked hard on the two permanent centres: the renovation works at Woluwe-Saint-Etienne have progressed well and the first stone has been laid in Limelette.
The mobile hubs bring digital technologies to the construction professional.
The two mobile hubs, bringing the technologies to the construction site, were deployed for the first time in 2021 and allowed professionals to test them in situ. In September and October we took them on a roadshow to various construction dealers throughout the country. At 18 locations, we gave the following demonstrations to their customers (some 900 construction professionals in all):
visualising a future installation or design using augmented reality
making quick, clear measurements for price quotations using digital measurement applications
calculating the cost price with digital calculation software
working more safely and quickly with exoskeletons
inspecting hard-to-reach building elements with drones.
With these initiatives, we want to lower the threshold for the use of digital technologies and improve the results obtained with these tools.