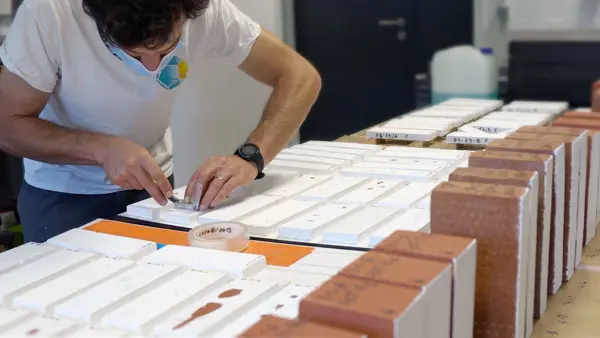 Own projects: two practical examples
Paint on brick masonry

The 'Paintwork, Flexible Wall and Floor Coverings' Technical Committee and the 'Technical Advice and Consultancy' department have reported pathologies related to the detaching of paint from brick. A project was therefore launched in 2021 to identify possible causes and propose practical recommendations. The Buildwise went on to develop a simple test with which painters can determine in situ whether the paint on brick masonry is at risk of detachment. The results of this research were discussed in an extensive article, but also in a short, dynamic video distributed on social media (including on our LinkedIn page). The making available of the results to the sector through various channels fits perfectly with the Buildwise's communication objective of reaching construction companies of all sizes in a very practical way.
Own projects in response to specific contractor needs
Dimensioning of glass parapets

The standard for building parapets specifies the various stresses that must be taken into account. However, it is no easy task to design parapets (especially when in glass) to protect people from the risk of falling. At the initiative of the 'Glazing' Technical Committee, the Buildwise has carried out tests with different types of configurations and implementations. The findings of this project will come in the form of tables for the correct dimensioning of parapets and glass thickness for different real-life cases, taking due account of the influence of glass spacers. The results of this research will be incorporated into a technical information note on glass parapets, which is nearing completion.